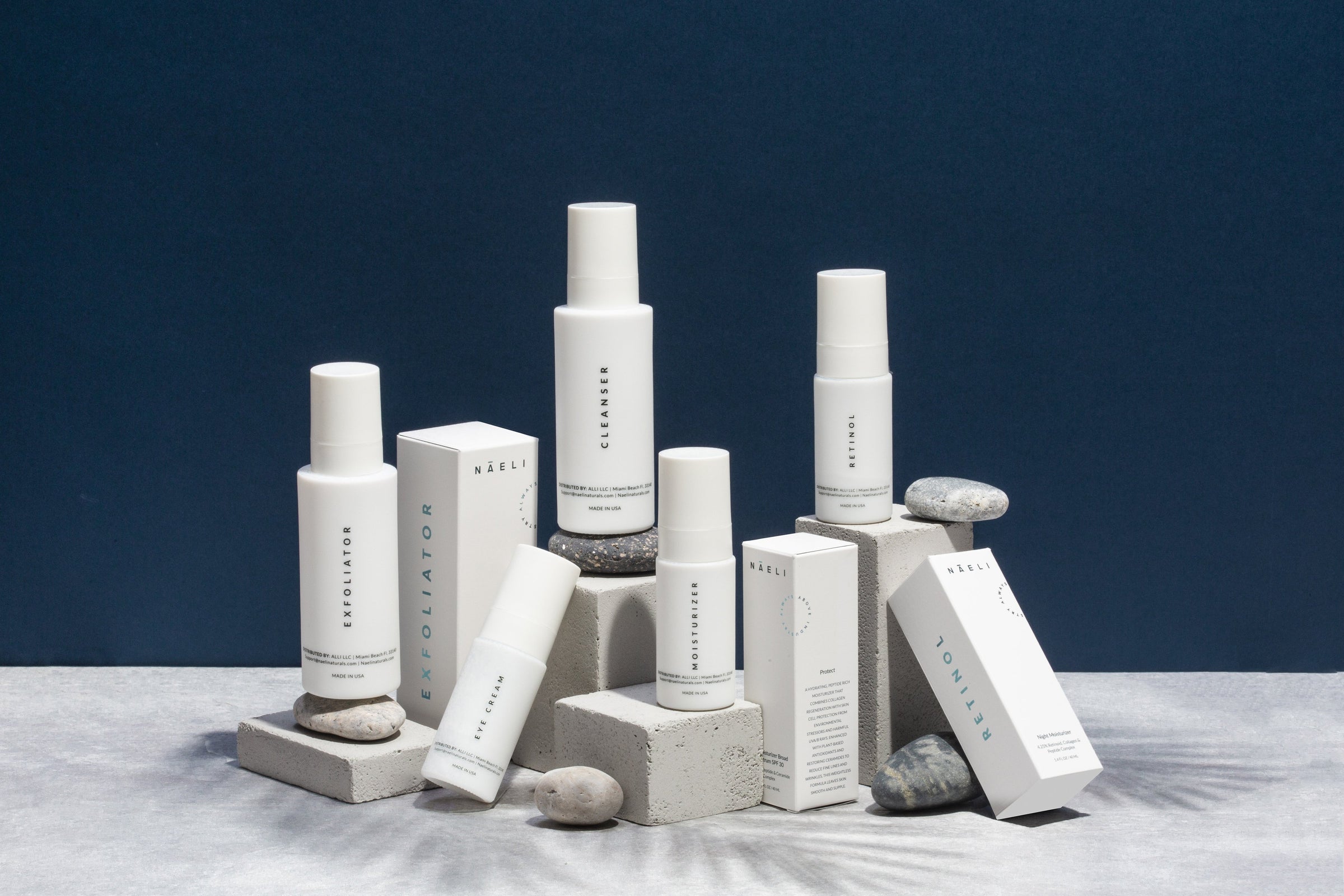 Reviews
See the dramatic before & after effects of NAELI
Super refreshing and noticeably cleanses, clears, and minimizes my pores.
This exfoliant face wash is the BEST. I ordered and started using it about a week ago and absolutely love the way it makes my skin feel.
I have always had combination oily/dry skin with hormonal acne and I am already noticing a difference in the way my skin looks and feels while using this product. After AM use, my face feels softer, fresher, and cleaner throughout the entirety of my day! The exfoliant is refreshing and light but at the same time I feel it working to clear oily build-up and wash away any residual makeup/dirt during my before bedtime use.
The product itself is really smooth to put on and does not give you that clogging/creamy feeling. The exfoliating beads give it the perfect amount of texture to help clear my pores without being rough.
ALSO, an added bonus, it smells yummy and refreshing!
Must buy exfoliator!
You must buy this product and anything from Naeli!
I'm in love this in particular because my skin feels alive after using it! The wash smells incredible and leaves my skin feeling and looking great. Since using this and other Naeli products my skin feels nourished, hydrated and it's helped reduce some lines too.
I had a question and customer service was amazing and super responsive too!
Do yourself a favor and try this!
It's the bottle for me...
Love this!! The price point is perfect for a product that feels so high quality. The bottle is so beautiful. Even my boyfriend loves using it 😍Thank you Nāeli!!
TRUST ME
Wowowow are You kidding me. I never write reviews but this exfoliating cleanser is EVERYTHING!! It has like a gel consistency almost kinda similar to glue with a subtle blueberry smell that is pleasant and not overwhelming. I have combo skin that can get oily and after using this my face feels incredibly soft and looks brighter and My pores minimized after the first use. I was told to try using An AHA and BHA combination and I'm so happy I did. This also says on the ingredients it has Acai, Goji, bearberry, avocado oil and I Love that about this face wash. If you are hesitating dont and give it a try. This really is luxury!

I'm looking forward to trying other products from this brand. Oh and the unit is super nice. Glass and heavy, my girlfriend was shocked to see it on the counter.
Great eye cream for a great price!
This eye cream came in at a perfect time! I have been getting 2-3 hour of sleep at a time, with my newborn staying up all night.
- I am using it for 2 weeks now. I love how creamy it is and it spreads so easily. It makes the fine lines under the eyes not as visible. It makes my under eyes so moisturized and smooth. 💕
- There's no fragrance to it and its non- toxic clean beauty formulated without harsh chemicals. I love that it has hyaluronic acid in there!!
THIS STUFF IS EVERYTHING
Okay WOW. so I actually bought this because I bought the under eye cream because I started to see slight wrinkles underneath my eyes. I ended up buying this product because Amazon suggested that a lot of people buy it together and thought why not. This night time cream is everything.
All around incredible product!
All you can ask for in one product! Starting off with the packaging, they definitely get 5 stars. I love how compact it is, and the fact that the bottle is made of glass just tops it off. The price point is also perfect for how much product you get. And the glow that this product leaves you with? Incredible! I attached some pictures so you can see how luminous my skin is after applying the product. 5 stars all around, I recommend it to all my girl friends! Go get yours, and thank me later ;)
Hydrating and applies beautifully
In a never ending endeavor to keep the delicate skin around my baby blue's hydrated and to diminish the puffiness that comes with the humidity that I live in, a friend recommended this product. Absorbs immediately, and I'm noticing that under eye area looks very hydrated. I will continue to use and monitor my puffiness ( it's a battle for me here with my sinuses so it's tough)
Obsessed with this exfoliator
I'm obsessed with this exfoliator i have been using it for 3 weeks now and I've seen so many changes, i use it once at week and i really like it, the texture is super smooth, i love it!!
Don't take our word for it
★★★★★

NĀELI is thick (but you won't feel the thickness on your skin), hydrating (I have dry skin), has reduced the dark circles under my eyes, and reduced puffiness. NĀELI has 100% worked for me. My favorite thing about this eye cream is that you get a lot of product compared to other expensive eye creams that are 1/5 of the size of NĀELI. Plus, the packaging is super cute :)
★★★★★

Loved this product, have been using it twice a week for 2 weeks now. The cleanser has everything you'd love to get in 1 product such as Glycolic & Hyaluronic acid, and Vitamin C. The exfoliator is gentle enough to remove dead skill but not so harsh that it creates dryness. You can see how clear & refreshed my skin looks (makeup free, filter free) after 2 weeks. A+ product.
★★★★★

I ordered this product after one of my girl friends recommended it to me and it is absolutely amazing! I use a pea size amount every night before bed, and I've only had the product for two weeks and I already see results! Highly recommend. Light, soothing, and repairs the skin beyond belief.
★★★★★

I really love the exfoliator from Naeli it is refreshing and soothing. I use it once or twice a week to remove toxins and get a firmer skin. Highly recommend it. Very affordable too for the quality of the product. The bottles are very pretty.
★★★★★

I've never been a fan of exfoliator cuz in my experience they have hurt my skin in the long term and leave a sensation of dryness, BUT THIS ONE? I was skeptical at first but I tried it and I can feel the difference, my skin doesn't feel dry when I take it off nor hurt, it has the right amount of scrub. I have to admit, a little of it fell in my mouth by accident and gurll I felt the fruit extracts, you can feel how the ingredients are very natural and I think it definitely makes the difference.